The philosophy: Consultancy from eCommerce to logistics and more...
With experience in the entire chain from eCommerce to logistics, an experienced consultant can help your company to achieve your IT Goals that match your business philosophy, processes and IT landscape. A consultant advises and helps you to implement software and processes in a targeted manner.
IT Doel uses a holistic approach, the issue is viewed in its entirety. From the look and feel of a webshop to functionality and technology, IT Doel focuses on the whole.
Bringing Marketing, Internet, IT worlds together in one.
What does IT Doel stand for?
IT knowledge on demand
Targeted approach
Developing appropriate solutions
Oriented analysing approach 
eCommerce united in your IT solution
Listening to your wishes
Whether it concerns software selection, implementing an eCommerce solution, developing interfaces between your different IT systems, analyzing through Analytics or other BI tools or optimizing parts through your eCommerce processes, an experienced consultant can advise and support you in all these facets of implementing an IT issue.
An experienced independent Consultant will be happy to help you implement, integrate and optimize your IT solutions in order to achieve your IT goals.
A consultant can take on the entire process or certain parts, such as writing a functional design for an interface or importing data into your shop, you determine which work is carried out by a consultant.
Structured Agile Method approach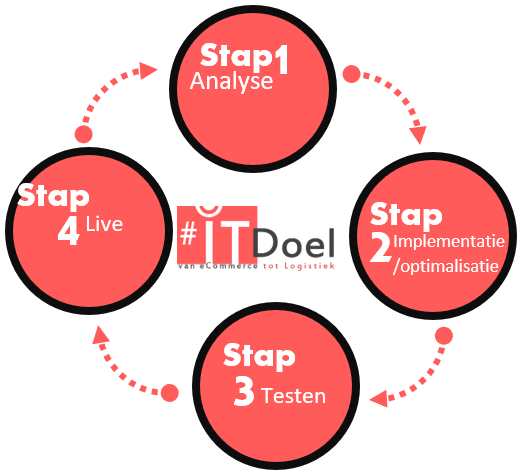 An experienced consultant will help you with a structured approach. IT Doel has developed an agile methodology, working with predefined templates, such as a planning, eCommerce plan, fit/gap list, functional design, test scenarios and a Go-Live plan. The aim of the methodology is to offer you as a customer tools in the IT process. The methodology consists of 4 steps:
Step 1: Analysis phase, in this phase the "issue" is mapped out and elaborated into one or more solutions.
Step 2: Implementation phase, the chosen solution is implemented, the consultant supports in this process.
Step 3: In the test phase, a number of tests are performed on the basis of the predefined test scenarios, including a test that checks the yellow process. So that a smooth go-live can take place.
Step 4: Going live, this is the phase in which the software, functionality or other optimization is delivered live and an experienced consultant supports the technical aspect of the implementation.
Volg IT Doel op social media: