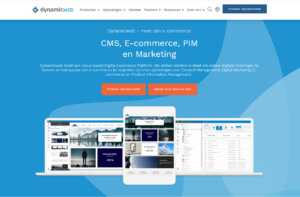 The possibilities in standard software seems to be endless, but what is the most suitable solution for your company? In the coming blogs I will highlight a few software packages, what the strength of that package is. Today I start with Dynamicweb.
Dynamicweb is an e-Commerce solution that is so complete that it goes much further than e-commerce. It is a webshop, Omnichannel, Catalog, PIM, CRM and Marketing platform in one, which can also be linked to the ERP system …
Below listed what the + points of Dynamicweb are:
Functions webshop users:

Content search: Not only being able to search for products but also for content in the site, this is particularly useful if you combine a site and shop.
Coupons and buy 3 and 4th is free.
Keeping track of loyalty points on orders, so that the customer builds up a credit and can later receive a discount on an order.
Determine the number of steps in the shopping cart
Show customer-specific range and content, for example based on the country where the customer is located.

Webshop management functions:

Publish function on pages and workflows on products
Frontend editor with layout grid that you can fill in yourself
Grouping of a number of products (matrix), eg to be used for clothing, a shirt in multiple colors and sizes can be displayed in 1 page and several can be ordered at the same time.
Multiple webshops can easily be created from the backend
Easily edit data with export / import function in CSV
Standard integrations with transport modules
Simple mapping with regard to interfaces: for example information from the ERP system can be set which fields of which table may be used.

Marketing:

E-mail mailings integrated
Abandoned shopping cart mailings
Generate forms yourself
A / B testing

Engineering / optimizations:

You can add extra functionality (modules) via XSLT templates
Execute SQL queries yourself, eg. easy to read data and restore it form the database whitout loggin on to the webserver (only suitable for technicians)

PIM / Catalog function

PDF generation of the page by the user
Search for missing data for products and create your own queries to add the information in batch.
Via a portal the possibility of downloading images by third parties
Export to Indesign in XML to quickly fill a printed catalog, for example: Product characteristics such as color, brand, etc. can be defined in a flexible way.

Omnichannel

It is easy to make links with external parties regarding feeds.
Dynamicweb connects by default with Channable, which again has feeds with bol.com, Amazon etc.
You can also link directly and generate feeds with other marketplaces or platforms.
Product selection and field selection, to choose which information is sent to which channel.
Dynamicweb is a good solution for companies that sell online via multiple channels, because a PIM system is integrated and the integration options with marketplaces or feeds are flexible. It also contains many functionalities that are suitable for B2B customers.
The advantage of standard functionality in a system is that it makes upgrading easy and will cost less time to maintain the system and you are always sure of the newest functionalitys in your webshop.
More information about Dynamicweb at https://www.dynamicweb.nl.
Next blog is about Sana Commerce, subscribe to the LinkedIn page to follow the blogs!