"The world between goodnight" & good morning"
Bed specialist Bedding Center Bosmans in Heist-op-den-Berg in Belgium has everything you need for a perfect night's sleep. Bosmans Slaapcomfort has been a resounding name in the fascinating world of sleeping since 1941.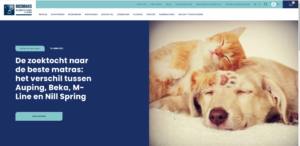 In their beautiful online and physical showroom you can go for advice in the field of beds, mattresses, pillows, bed textiles and duvets from Tempur, Beka, Geltex, Auping, Hasena, Mline, Technogel and much more.
As a Shopify Partner, a free development version of a webshop can be prepared for you in the blink of an eye, interested?
Please send a message or make an appointment.